Dylan the 'dog wonder' of Diggers K9 Education takes out the Casterton Kelpie Muster's Kelpie Idol title for the 6th year in a row.
The Kelpie Idol contest allows handlers to show off  there training skills by competing for the title of Kelpie Idol. Dylan and David entertained a large crowd with there amazing repertoire of tricks. Dylan also performed an all new trick that showed that old dogs can learn new tricks. The trick consisted of a member of the audience choosing a card numbered between 1 & 4 then, without Dylan or David seeing the number, Dylan barked 3 times to indicate the number 3.
Many people were amazed and later asked how the trick was done.....lets just say that either Dyl or Dave may be psychic.
Dylan is now just over 10 years of age and loves performing for a crowd.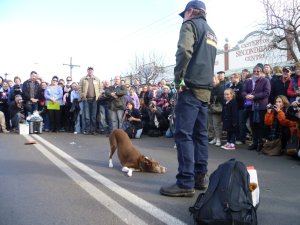 Categories: None